ABOUT Bruschetta RECIPE
A simple french recipe
Ingredients Serving: 5
1 Baguette - sliced in about 1/2 inch thickness
1 box (8 oz) of grape tomatoes - washed and cut into half or quartered
1 tbsp of extra virgin olive oil
1/2 tbsp of finely chopped fresh garlic
A handful of fresh basil leaves - finely chopped
Salt and pepper powder to taste
Instructions
In a serving bowl, take the cut grape tomatoes. Keep it aside.
In a skillet, pour in the olive oil. Once hot, add the chopped garlic. Once they loose its rawness add the chopped basil leaves. Saute it lightly.
Remove it from the heat and pour it on top of the bowl of tomatoes. Add some salt and pepper powder to it and give a mix.
In the same pan, line the sliced baguette pieces and lightly toast it on both sides. Use additional olive oil if required. Remove it on to a plate and serve it hot with the tomatoes on its side.
You could top each bread piece with tomato toppings and serve it or leave it for your guests to serve it themselves.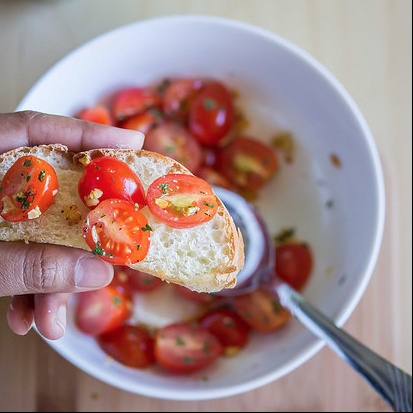 Bruschetta
Anupa Joseph